Dr. Ayesha Siddiqui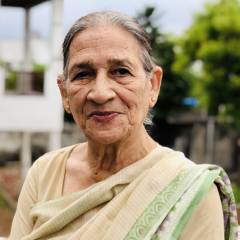 Dr. Ayesha Siddiqui, eminent urdu short stories writer, has been the Principal of B.V.N.I. College of Lucknow. She has been included in the "Who's who" of Asia Pacific and has published her short stories in prestigious journals, besides a collection named "Ghoomte Chaak Ki Keel". She is the author of "Poorbi Deson Ki Kahaniyan" which give folk tales for children. Dr. Siddiqui has been bestowed with the following awards:
U.P. Urdu Academy Award 1983.
West Bengal Urdu Academy Award 1984.
Teachers' Award 1992.
Imtiaz Meer Award 1993.
Bazme Urdu Award 1997.
Krishna Chandr Award 2000.